Filed Under :
Arty Party
,
Creative Reuse
,
Events
,
News
by Ethan Swanson
May.22,2017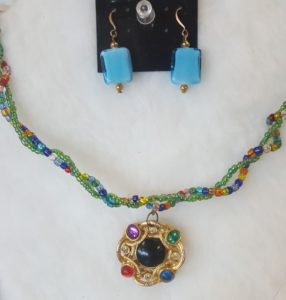 Sat., June 10, 10:30- 12:30 pm. Teens- Adults. Prepay/ Register by June 3. Students can make their choice of earrings, necklaces or bracelets based on alloted time. Work with guidance and instruction of Teena Stewart to make finished jewelry pieces from one or several of the following
a) Your own jewelry items
b) Recycled jewlery from Resource Warehouse
c) supplies provided by the instructor
We'll keep a tab expense sheet and you can pay at the end of class based on supplies you use. NOTE: If purchasing recycled jewelry components from Resource you need to pick them out before 10:30 am on the day of class.
SUPPLIES: Cost varies based on what you make. Payment for supplies used during class are due after class.
Class Cost: $25
You can leave a response, or trackback from your own site.