Filed Under :
Arty Party
,
Creative Reuse
,
Events
,
News
by Ethan Swanson
Jun.26,2017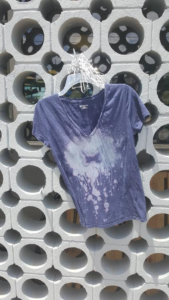 Bleached T-Shirts Class
Instructor: Teena Stewart
Date: Friday July 21st (Call 828-256-2695 to Reserve/Prepay by July 15th)
Cost: $35     Time: 10:30-12:30
Description: Artist Teena Stewart will help you design your own t-shirt with a trendy faded look. We will work with simple cut out patterns we make ourselves and then alter our shirts using a spray technique to get that cool bleached retro look.
Note: Participants need to bring their own clean COLORED cotton t-shirt(s), up to 2 with no printing on the front. Used t-shirts are fine. All other supplies will be provided.
You can leave a response, or trackback from your own site.