Category : Arty Party
Sep.27,2017
Jun.26,2017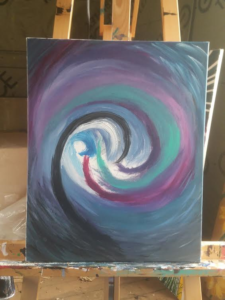 Abstract Ocean Painting Class with Allison Stanley
Date: July 19th   Cost: $40   Time: 9am- 11am
for ages 8 and up.
Reserve a spot and Prepay by calling Resource at 828-256-2695
Reservation Cutoff Date: July 15th
 Allison will be showing you how to look into the ocean with an abstract view. (pictured above)
Supplies provided: Fan Brushes, Recycled surfaces to paint on (Roughly 11×14) which will include wood, glass, and other items from Resource.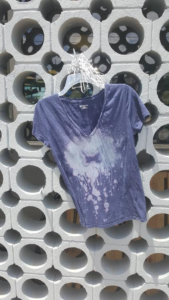 Bleached T-Shirts Class
Instructor: Teena Stewart
Date: Friday July 21st (Call 828-256-2695 to Reserve/Prepay by July 15th)
Cost: $35     Time: 10:30-12:30
Description: Artist Teena Stewart will help you design your own t-shirt with a trendy faded look. We will work with simple cut out patterns we make ourselves and then alter our shirts using a spray technique to get that cool bleached retro look.
Note: Participants need to bring their own clean COLORED cotton t-shirt(s), up to 2 with no printing on the front. Used t-shirts are fine. All other supplies will be provided.