Milk Paint
Yes, we know — everyone is talking about chalk paint and milk paint, but you still have a bunch of questions. We'll try to help.
Here are some frequently asked questions:
Do you have Annie Sloan chalk paint?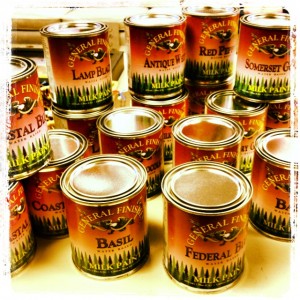 Is milk paint the same as chalk paint?

No. They're quite similar, though. You might want to read this short post to learn a little more about how the two products line up. (N.B. This post has powdered milk paint in view; the line we carry is liquid.)

How much milk paint do I need?

Not much. We can't give you the exact measurements, but a little bit goes a long way. A pint-size container of milk paint should very easily cover one or two large pieces of furniture, like a desk or dresser (or many smaller ones, like side tables).

You don't have the color I want…

Sorry! The bad news is, we carry the full line of 20 colors our distributor makes, so we can't get on the phone and order a new one for you. The good news is, milk paint mixes very easily. So, if you're a bit adventurous and creative, get out your color wheel and create whatever color you're after!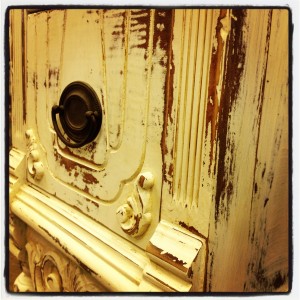 Can I use milk paint outside?

Sure! According to our manufacturer, this milk paint is UV resistant, so go ahead and use it on indoor or outdoor pieces.

Do I need a primer?

No. Milk paint will apply directly to wood, or to whatever paint is already on the piece you're working with. However, keep in mind that milk paint is not a very thick paint. Lighter colors will allow more to show through. If you don't care for that look or aren't trying to distress your piece, you can add another coat of milk paint after the first dries. Of course, if you really enjoy primers, go for it – you won't hurt anything by using one.

How do I apply milk paint?

It's kind of up to you. Our manufacturer recommends foam brushes. We have heard from some folks who swear by chip brushes. Experiment and find what works well for you.

You have wax… do I need to use wax? Do I need a top coat?

You don't need it, but we highly recommend it. The paint will dry in a few hours, and looks and feels lovely on its own. However, in order to increase durability (especially on chairs, tables, shelves – anything that's going to get any kind of wear & tear), we suggest you add a coat of wax or a top coat to protect your work!
We carry a selection of Briwax products in our gallery.
---
We are also carrying the General Finishes "Top Coat" available in many different colors.