Volunteer
If you're the kind of person who likes to be more hands-on, we have plenty of volunteer opportunities!
We are delighted to have help in our warehouse (sorting, pricing, organizing donations) daily. We have need for occasional, on-call manual labor to move large/heavy pieces of furniture. Any volunteers who have a pick-up truck and/or trailer they are able to use are a huge help! We also need some help supervising craft activities in our Arty Party room from time to time.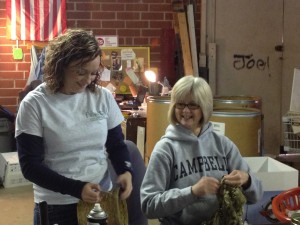 Due to the nature of our work, we have some restrictions in place regarding which volunteers we will place in which roles. Please contact Safe Harbor's Volunteer Coordinator, Christie, by email or phone (828-326-7233) to discuss current volunteer needs and procedures.