A lot of you are familiar with Terrell Miller, he has been one of our most loyal consignors. You may recognize his whimsical creations in the Gallery at Resource. Terrell will be doing a "Snowman painting class" on December 12th, 2015. His classes are not only instructive but a lot of fun when combined with his personality and imagination.  Contact us now to reserve your spot in the class. Payments are required the day you sign up for the class to assure your seat!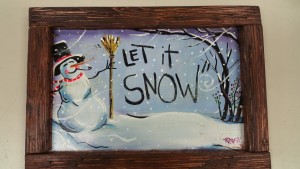 All supplies are included!
$60 per person.
12-12-15
10am until 12 Noon.
Call ReSource @ 828-256-2695 or email Megan (megan@resourcewarehouse.org) for more information.