Jun.18,2016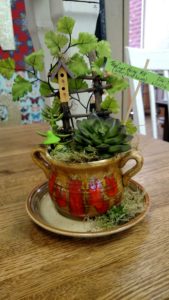 Even a teacup purchased at our warehouse can be the perfect place of residence for a tiny fairy!  Come by our gallery to see all 8 unique miniature fairy gardens made by one of our newest consigners, Beverly Brittain, who has given new life to several discarded teacups and mugs!  What a wonderful gift for yourself or a friend!
 Thank you for consigning with us, Beverly!
Jun.16,2016
The 3rd annual Bedspread Derby will be held on Saturday, August 20, 2016 at 8:30 AM in the parking lot of Valley Hills Mall!  Please help!!!  We are in need of teams and sponsorship!  All proceeds benefit Safe Harbor Women's Rescue Mission!

Stop by ReSource Warehouse and Gallery for information or visit www.bedspreadderby.com